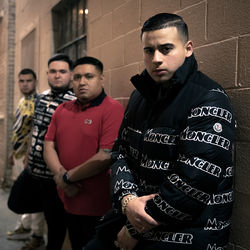 Learning Spanish with Fuerza Regida's music is fun, engaging, and includes a cultural aspect that is often missing from other language learning methods. It is also great way to supplement your learning and stay motivated to keep learning Spanish!
Below are 2 song recommendations by Fuerza Regida to get you started! Alongside each recommendation, you will find a snippet of the lyric translations with links to the full lyric translations and lessons for each of the songs!
Fuerza Regida is composed of José Ortiz Paz (also known as JOP; lead singer), José García (tuba), Samuel Jaimez (requinto), Moisés López (tololoche) and Khrystian Ramos (guitar). The group was originally formed in East Los Angeles in 2015 as a cover band.
Te Quiero Besar (I Want To Kiss You)
Te mando flores y respondes otra cosa
Si nos peleamos siempre tú eres la orgullosa
Entre los dos a mí me toca soportar
I send you flowers and you respond something else
If we fight, you're always the proud one
Between us, I have to endure
Te Quiero Besar by Fuerza Regida featuring Becky G is a song about a couple who are going through a rough patch in their relationship. The lyrics describe the struggles of one partner who feels unappreciated and neglected by the other. Despite their differences, they both want to work things out and move forward together. The song involves a cross collaboration between artists of different genres, and incorporates traditional Mexican music elements. It is a perfect example of how music can be used to learn a language and understand different cultures.
Fierro, de las cumbias originales con mis compas Grupo Frontera
Y Fuerza Regida, compadre. Fierro pues, márcale compa Carlos, dice
Tengo tiempo pensando en los dos
Si podemos arreglar la situación
Ready, from the original cumbias with my friends Grupo Frontera
And Fuerza Regida, buddy. Ready then, come on Carlos
I have time thinking about us
If we can fix the situation
The song "Bebé Dame" by Fuerza Regida is about a person who has been thinking about a romantic interest and wants to reconcile their love. The lyrics express the desire to be with the person every day and the willingness to do things differently to make the relationship work. The chorus repeatedly asks the person to come and give the singer what they ask for, and not to let another day go by without seeing them in the morning. The song also includes references to poetry and the desire to love and be loved.
We have more songs with translations on our website and mobile app. You can find the links to the website and our mobile app below. We hope you enjoy learning Spanish with music!