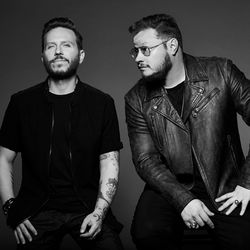 Learning Spanish with Sin Bandera's music is a great way to learn! It is fun, engaging, and includes a cultural aspect that is often missing from other language learning methods. So music and song lyrics are a great way to supplement your learning and stay motivated to keep learning Spanish!
Below are 1 song recommendations by Sin Bandera to get you started learning Spanish! We have full lyric translations and lessons for each of the songs recommended below, so check out all of our resources. We hope you enjoy learning Spanish with Sin Bandera!
Sin Bandera (translated as 'Without Flag') is a romantic ballads duo consisting of Mexican singer-songwriter Leonel Garcia and Argentine singer-songwriter Noel Schajris. They formed in Mexico in 2000. They became one of the most popular artists after their debut album Sin Bandera was released on March 26, 2002.
Entra en Mi Vida (Enter My Life)
Buenas noches, mucho gusto
Good evening, nice to meet you
You were already someone special
Entra en Mi Vida by Sin Bandera is a song about the power of love and how it can take over in an instant. It tells the story of two people who meet and quickly realize that they have a special connection. The lyrics express the narrator's desire to have the other person in his life, and how he has come to need her. He opens the door to his heart and invites her in, promising that there will be no more lonely nights. The song is a reminder that love can happen in an instant and that it is worth taking a chance on.
We have more songs with translations on our website and mobile app. You can find the links to the website and our mobile app below. We hope you enjoy learning Spanish with music!