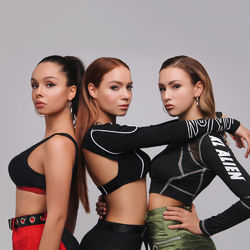 Learning Russian with Серебро (Serebro)'s music is a great way to learn! It is fun, engaging, and includes a cultural aspect that is often missing from other language learning methods. So music and song lyrics are a great way to supplement your learning and stay motivated to keep learning Russian!
Below are 1 song recommendations by Серебро (Serebro) to get you started learning Russian! We have full lyric translations and lessons for each of the songs recommended below, so check out all of our resources. We hope you enjoy learning Russian with Серебро (Serebro)!
Serebro is a Russian pop group formed in 2007 by producer Maxim Fadeev. Serebro was selected to represent Russia at the 2007 Contest with the song titled "Song #1". They subsequently placed third at the contest, scoring a total of 207 points. The group has released five studio albums, with their most successful being their debut album Opiumroz, which was certified platinum in Russia.
Я ТЕБЯ НЕ ОТДАМ (YA TEBYA NE OTDAM) (I WON'T GIVE YOU UP)
Наши тени скрывались под лампой
Чтобы эту любовь не увидел никто
Я попробую в такт на пуантах
Сердце плачет со мной, это скроет пальто
Our shadows hid under the lamp
So that nobody would see this love
I'll try the beat on pointe shoes
My heart is crying with me, this coat will hide it
"YA TEBYA NE OTDAM" by Серебро is a song about the strength of love and commitment. The lyrics describe a couple who are trying to keep their love hidden from the world, and the singer expresses her determination to never give up on the relationship, no matter what. The chorus repeats the phrase "YA TEBYA NE OTDAM" ("I will never give you up") to emphasize the singer's unwavering devotion.
We have more songs with translations on our website and mobile app. You can find the links to the website and our mobile app below. We hope you enjoy learning Russian with music!