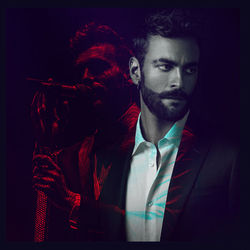 Learning Italian with Marco Mengoni's music is a great way to learn! It is fun, engaging, and includes a cultural aspect that is often missing from other language learning methods. So music and song lyrics are a great way to supplement your learning and stay motivated to keep learning Italian!
Below are 1 song recommendations by Marco Mengoni to get you started learning Italian! We have full lyric translations and lessons for each of the songs recommended below, so check out all of our resources. We hope you enjoy learning Italian with Marco Mengoni!
Marco Mengoni is an Italian pop singer-songwriter who rose to fame in 2009, after winning the third season of Italian talent show X Factor. Since that he has sold over 2.8 million records in Italy, peaking the Italian albums chart seven consecutive times and entering the Top 10 Italian Singles Chart fifteen times. He won the Sanremo Music Festival in 2013 and again in 2023.
Siamo i soli svegli in tutto l'universo
E non conosco ancora bene il tuo deserto
Forse è in un posto del mio cuore dove il sole è sempre spento
Dove a volte ti perdo, ma se voglio ti prendo
We're the only ones awake in the whole universe
And I don't know still your desert well
Maybe it's in a place in my heart where the sun is always off
Where sometimes I lose you, but if I want I catch you
The song "Due Vite" by Marco Mengoni is about two people who feel alone in the universe, but find solace in each other. The lyrics express their struggles with life's challenges, but also celebrate their connection and the moments they share together. The chorus repeats the phrase "che giri fanno due vite" (what twists two lives take), emphasizing the unpredictable nature of life and the importance of cherishing the present.
We have more songs with translations on our website and mobile app. You can find the links to the website and our mobile app below. We hope you enjoy learning Italian with music!