Log in to enable edit translations mode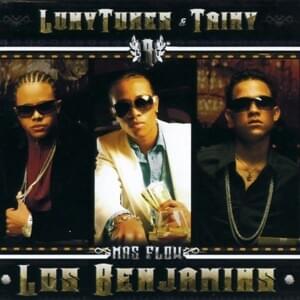 Piden Reggaeton
Angel & Khriz (16+)
Letra de 'piden reggaeton'
Lyrics of 'ask for reggaeton'
Ella pide reggaeton
She asks for reggaeton
Que le meta con presión
Get him in with pressure
Perreo suave que inunde el salón
Soft dog that floods the living room
Y un calentón, entre ella y yo
And a warm-up, between her and me
Ella pide reggaeton
She asks for reggaeton
Que le meta con presión
Get him in with pressure
Perreo suave que inunde el salón
Soft dog that floods the living room
Y un calentón, entre ella y yo
And a warm-up, between her and me
Verse 1
Dale mami que nos fuimos slow mo'
Give mommy we left slow mo'
En la esquina el bailoteo es más lento
In the corner the dancing is slower
Tú me toca, yo te toco, en lo oscuro
You touch me, I touch you, in the dark
No podemos comer cuento, porque llegó el momento
We can't eat a story, because the time has come
Sumba el ritmo luny tunes, que lo otro lo pongo yo
I beat the luny tunes rhythm, which I put the other
Slow motion, pega'ito y sencillo
Slow motion, pega'ito and simple
Barra abierta que llegaron los que mandan el club
Open bar that came those who run the club
Y tranquilo, que los benjamins hoy corren con todo
And don't worry, that benjamins today run with everything
Chorus 1
Slow mo', slow mo', dale suave
Slow mo', slow mo', give it soft
Slow mo', y vete en el viaje
Slow mo', and go on the journey
Slow mo', slow mo', perreo 101
Slow mo', slow mo', perreo 101
Guayando mahón con el traje
Guayando mahón in the suit
Slow mo', slow mo', dale suave
Slow mo', slow mo', give it soft
Slow mo', y vete en el viaje
Slow mo', and go on the journey
Slow mo', slow mo', perreo 101
Slow mo', slow mo', perreo 101
Guayando mahón con el traje
Guayando mahón in the suit
Ella pide reggaeton
She asks for reggaeton
Que le meta con presión
Get him in with pressure
Perreo suave que inunde el salón
Soft dog that floods the living room
Y un calentón, entre ella y yo
And a warm-up, between her and me
Ella pide reggaeton
She asks for reggaeton
Que le meta con presión
Get him in with pressure
Perreo suave que inunde el salón
Soft dog that floods the living room
Y un calentón, entre ella y yo
And a warm-up, between her and me
Verse 2
Suave, dale nena, suave
Soft, give it babe, soft
Sigue perreando, pero sin perder la clave
Keep perreando, but without losing the key
Sé que en la disco tu fuete reparte
I know on the record you're handing out
Hoy si tú quiere nos vamo a parte
Today if you want, we're going to part
Sorea'o, en lo oscurito postea'o
Sorea'o, in the dark post'o
A lo boy scout, tú y yo arrima'o
At the boy scout, you and I are arrima'o
Por ahí andan un par de locos que andan bien bad tripia'o
There's a couple of crazy people out there who are doing well bad tripia'o
Roncando todavía que en esto los he pasea'o
Still snoring that in this I have walked them
Con calmona, relax, que lo mío detona
With calmona, relaxation, that my detonates
¿quieres acción? ven pegate a mi zona
You want action? come stick to my area
Aunque fronteen los lechones, en esto tengo la corona
Even if they front the piglets, in this I have the crown
Y esta noche baila, que tu cuerpo se 'esborona
And tonight she dances, that your body 'sneers
Chorus 2
Slow mo', slow mo', dale suave
Slow mo', slow mo', give it soft
Slow mo', y vete en el viaje
Slow mo', and go on the journey
Slow mo', slow mo', perreo 101
Slow mo', slow mo', perreo 101
Guayando mahón con el traje
Guayando mahón in the suit
Slow mo', slow mo', dale suave
Slow mo', slow mo', give it soft
Slow mo', y vete en el viaje
Slow mo', and go on the journey
Slow mo', slow mo', perreo 101
Slow mo', slow mo', perreo 101
Guayando mahón con el traje
Guayando mahón in the suit
Ella pide reggaeton
She asks for reggaeton
Que le meta con presión
Get him in with pressure
Perreo suave que inunde el salón
Soft dog that floods the living room
Y un calentón, entre ella y yo
And a warm-up, between her and me
Ella pide reggaeton
She asks for reggaeton
Que le meta con presión
Get him in with pressure
Perreo suave que inunde el salón
Soft dog that floods the living room
Y un calentón, entre ella y yo
And a warm-up, between her and me
Outro
Khriz el angel, yo!
Khriz the angel, I!
Tú sabes como es el negocio de los benjamins
You know what the benjamin business is like
Muchos emboca'os de que janguean con ellos
Many ambushes you from janging with them
Y muchos calla'os que lo tenemos
And many quiet people who have it
Transportandolos a la discoteca
Transporting them to the disco
Guess who's back!
Guess who's back!